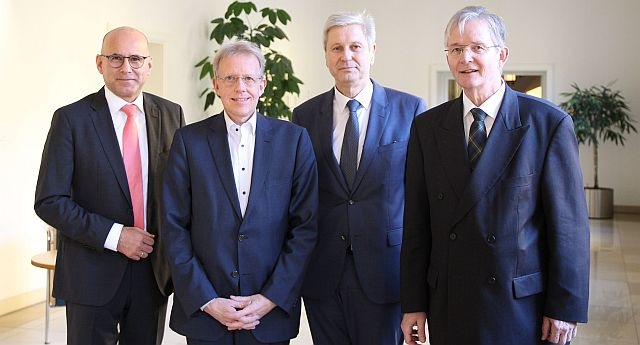 Munich (ots) – states, Collecting societies and publishers agree on a licensing model with user-friendly solution. PMG Presse-Monitor manages rights of the press publishers true.
Teachers at schools may continue to reproduce analog and digital press articles from newspapers and magazines for the classroom.
With a new general agreement that countries ensure under the auspices of the Bavarian Ministry of Culture, CRMs (VG) Word and Image Art and PMG Presse-Monitor the use of copyrighted text and images for use in schools. The PMG acknowledges as a focal point for the press publishers now have the necessary rights for this and bills the user fees to the countries from sweeping.
Consent of around 2.000 Newspapers and magazines already granted
"It is important, that teachers can continue to use press products easily and legally in their teaching, while maintaining the interest of publishers to receive adequate remuneration for their content.
With this agreement, we have ensured this", explains Oliver Grassy, Managing Director of PMG.
"We already offer for around 2.000 Newspapers and magazines the necessary license agreements for educational purposes at. The publishers' associations have supported us here on the acquisition of additional rights."
The contract to the PMG founded Oliver Grassy: "Thanks to our experience in the licensing of press content, we can start with a user-friendly and economic solution for all parties immediately."
background: Revised copyright law requires new rules
The law on the harmonization of copyright to the current requirements of the knowledge society (UrhWissG) came to 01.03.2018 in Kraft. After that, teachers in school education may be up 15 use of an article percent royalty free. Full papers require in view of the funding needs of content production by the private day- and general press consent of the copyright holder or an appropriate remuneration. This change in legislation requiring new rules, we can continue to utilize the press activity in schools. The now closed framework agreement will initially run until 2022.
For the contract for download at http://ots.de/XqHQHz.
   A photo of the signatory contractors to get to
downloaded free at http://ots.de/mm2nxz. 
Left to right: Dr. Oliver Grassy (PMG), Dr. ilas
Grain Wellershaus (Association of Educational Media), Deputy Ministers Herbert Püls 
(Bavarian Ministry of Culture) and Rainer Just (VG Wort); Those: 
StMUK. 
About PMG
The PMG Presse-Monitor GmbH is a German newspaper- and magazine publishers. With the greatest today's press database in German-speaking PMG is the leader in digital media monitoring and media analysis. The PMG marketed contents and rights of over 850 Newspaper- and magazine publishers with over 4.000 sources. PMG served by the Berlin office of around 4.000 Customers of companies, Associations and public institutions as well as media monitoring services and PR agencies.
Press contact:
PMG Presse-Monitor GmbH
Roger Dormeier
Markgrafenstraße 62
10969 Berlin
Tel.: +49 30 28493 118
Fax: +49 30 28493 200
roger.dormeier@presse-monitor.de
www.presse-monitor.de
Original content of: PMG Presse-Monitor GmbH, news transmitted by currently


This news comes from our partner network : https://www.presseportal.de/pm/32453/4161996

Original content transmitted by PR Newswire
original image courtesy of presseportal.de