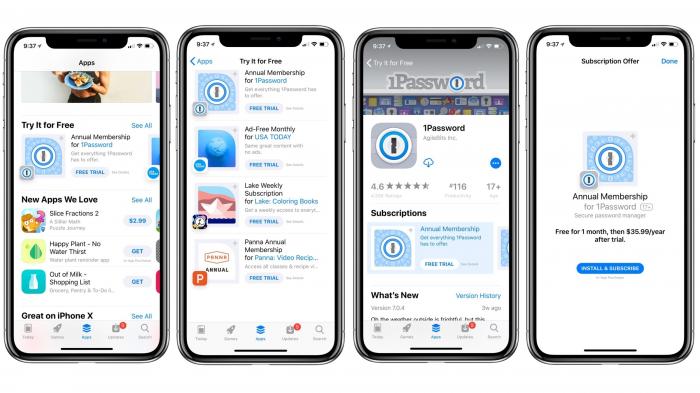 Currently iOS programs with a "Try It For Free"-program advertised, to convince users to complete software subscriptions.
Hardly any development in recent years is likely among users of PCs, Macs and mobile devices to be as controversial as the general trend towards Softwareabos. Instead of paying once, should you shell out monthly or annually for his favorite programs - is it then but with regular updates "gifted". Apple seems to have set itself, that the future actually belongs to the subscription models. In the US App Store for iPhone and iPad a new campaign was launched this week, which clarifies this.
1Password, a newspaper, a prescription service
The App tab, containing the editorial neat tips to new applications, became a "Try It For Free"-list published, be advertised in the various known Aboprodukte. The special thing: All apps have sample phases, as long as you then get involved with more or less long terms. So there is the controversial membership in the password manager 1Password for a month for free, if you then 36 Euro paid in. Also on the list is the ad-free version of the newspaper App "USA Today", the coloring book SUBSCRIPTION Lake and video recipes collection of Panna.
The campaign should probably soon also appear in the German App Store - there probably adapted to local habits. since iOS 11.2 Apple offers developers, to provide their subscription apps with an introductory price, price-sensitive users to move to the final. The trial period can also be free or the first few months are more favorable.
incentive: Commission for Apple falls
In addition, an adaptation to different countries is possible - in Third World regions a subscription could then for example be cheaper. Apple is trying developers with another way towards subscription Apps to direct: since summer 2016 will commission, Apple usually gets, halved after one year subscription term of a user - by 30 on 15 percent. This can have a significant impact on the revenue account.

(bsc)




This news comes from our partner network : https://www.heise.de/meldung/Apple-pusht-Abo-Anwendungen-im-App-Store-3940222.html?wt_mc=rss.mac-and-i.beitrag.atom

original image courtesy of heise.de