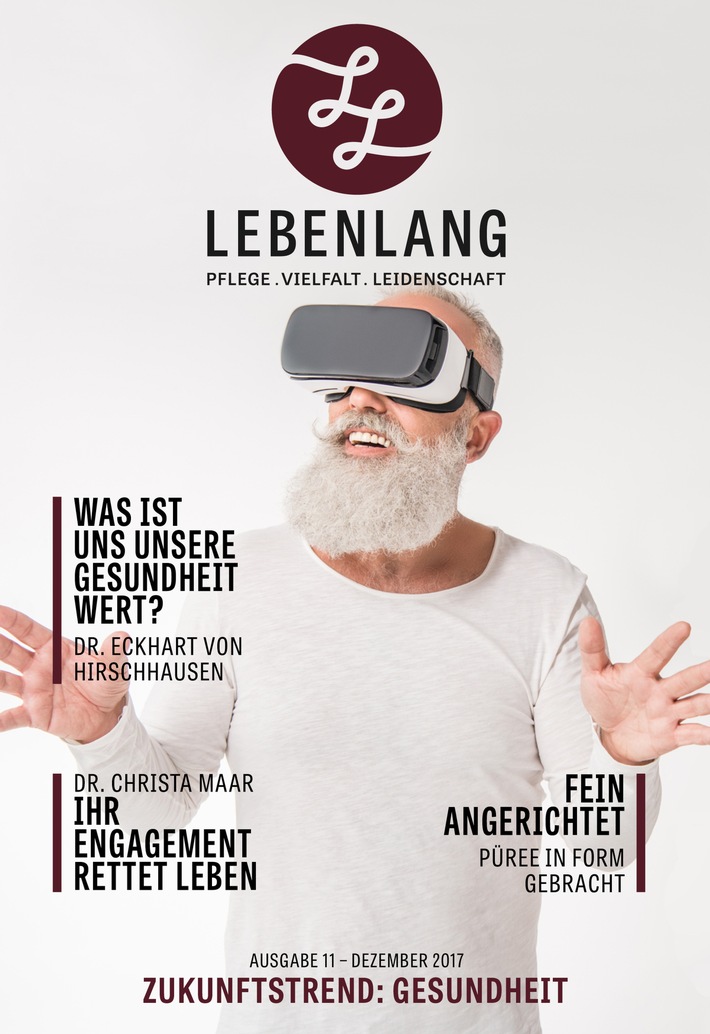 Berlin / Hanover (ots) – Germany has one of the most expensive health systems in the world, and yet the Germans are not really healthier than other people compared. How can that be? The well-known physicians, Author and presenter Dr. Eckart von Hirschhausen enlightening answers to these and other questions related to medicine, Health and care. The interview is part of the current issue of Lifetime: The free digital care- and lifestyle magazine is now under lebenlang.de as an online magazine, as well as an app (iOS and Android) available.
"Lifetime gives new insights into the world of medicine, Care and health", reported chief editor Nadine Steinmetz. "Our readers get a variety of stimuli, think about themselves and their health: What we do for its preservation, and what it is actually worth to us – These issues affect us all. With our current issue under the motto 'Towards: health' We offer all interested parties an unprecedented approach to this topic."
Lebenlang N° 11 treated diverse topics from the life, should move and incite, to do things differently. It is not only about medicine, the free magazine bundles Care, Health and activity with lifestyle issues for leisure and work. Well-known personalities from politics, Society and Medicine give professional and personal insights, reader-friendly way in interviews, Reports and concise messages. Among other things, Dr show. Christa Maar and the Felix Burda Foundation in this issue, why it is so important, to act and to rethink their own lifestyle conscious.
The digital magazine lifetime appears every three months in the publishing Carry-On Trade Publishing, a subsidiary of Schlütersche publishing company. In addition to the current issue 11 the previous editions are lebenlang.de free and always available. The magazine can be comfortable on digital devices such as smartphones, read tablets and PCs.
Über Carry-On Trade Publishing
Carry-On Trade Publishing (COTP) is a subsidiary of Schlütersche a purely digital media company based in Berlin. With his publications COTP speaks the different readers in the areas of professional care, caregivers and diverse interests are best agers to. The goal: Known issues such as health care and to rethink and develop content, promote the exchange of information between the target groups and ensure greater enlightenment.
About the Schlütersche
The topic health and care is one of the core competencies of Schlütersche: The portfolio includes a wide range of care media for practice with an emphasis on textbooks, pflegen-online.de the online portal, the magazine to the chamber care Rheinland-Pfalz and the product line for social sgp, health- and care sector. Since 2015 is the Schlütersche executive organizer of the leading congress German Pflegetag. As a media service provider for medium-sized companies Schlütersche also developed advertising- and marketing concepts – digital, in Print oder crossmedial, all from one hand.
Press Lifetime / COTP:
Nadine Steinmetz
Chief Editors Life Long
nadine.steinmetz@carry-on-trade-publishing.com
Telephone 030 208888251
Carry-On Trade Publishing GmbH
Potsdamer Platz 9, 2. Stock
10117 Berlin
www.lebenlang.de
Press Publisher Schlütersche mbH & Co. KG
Christiane Pitschke
Corporate Communications
pitschke@schluetersche.de
Telephone 0511 8550-8355
Schlütersche Verlag mbH & Co. KG
Hans-Böckler-Allee 7
30173 Hannover
www.schluetersche.de
Original content of: Schlütersche Verlag mbH & Co. KG, news transmitted by currently


This news comes from our partner network : https://www.presseportal.de/pm/57471/3837140

Original content transmitted by PR Newswire
original image courtesy of presseportal.de