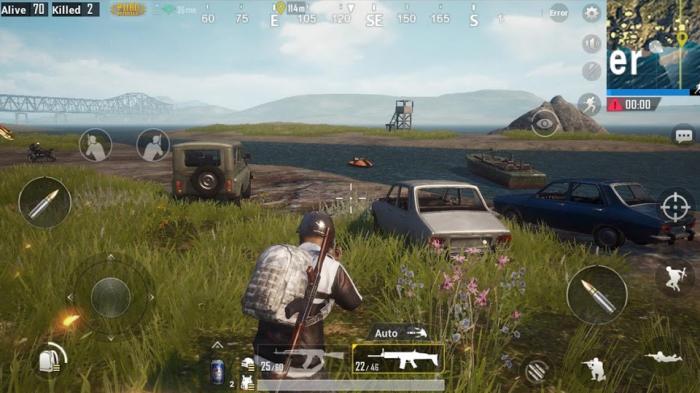 After the mobile version of Player's Unknown Battlegrounds since the end 2017 is available in China, the game app this week is now the world ready for iOS and Android to download.
Player Unknown's Battlegrounds is now available in a mobile version for Android and iOS Available in the US and Europe. The free download weighs just under a gigabyte and requires at least Android 4.3 or iOS 9.0. Compatible the title is both smart phones as well as tablets and Apple's iPod Touch (6. Generation).
PC port with voice chat
PUBG Mobile is a port of the PC- and console version. In the Battle Royale Game 100 Players dropped simultaneously over an eight-square-kilometer area game. The playing field is then smaller at regular intervals. Who can not make it in time to the new field, ruled out. After landing by parachute to start the game it is weapons, to find vehicles and equipment, and eliminate opponents. Who is the last yet, has won.
Like the PC version, the mobile version of Player's Unknown Battlegrounds has a voice chat feature in duo- and Squad mode. Here, players can join together and take it together with its counterparties.
For smartphones and tablets graphics of player Unknown's Battlegrounds suffered a downgrade. Buildings are filled with less detail and the textures are just during the parachute landing blurred than in the PC version. is controlled entirely via the touch screen. Some features, such as a lock feature to race or shooting buttons on both sides are to come as close as possible to the gamepad input on the Xbox One and the keyboard controller on the PC. the mobile version is content with the Xbox One version comparable. The choice is only one card.
Functions have been taken such as skipping of obstacles from the 1.0-PC version. In the case, that is played PUBG Mobile without headphones, The map shows noises in the vicinity of small icons. The game speed remains largely the same compared to PC and console. So matches take too well on mobile devices to 30 minutes. In contrast to the PC- and Xbox One version also cavort in PUBG Mobile bots. They should facilitate access to player's Unknown Battlegrounds new players. However, their number decreases with increasing skill of the player.
Bei Problemen mit der Wiedergabe des Videos aktivieren Sie bitte JavaScript
Already since 2017 Available in China
Tencent, The Chinese company behind WeChat, had bought the rights to a mobile-reacting player's Unknown Battlegrounds last year. since the end 2017 was PUBG Mobile subtitled "Exhilarating Battlefield" Available in China. In the past week then began a beta test on Android devices in Canada.
With the mobile version of Fortnite PUBG Mobile has a powerful competitor in Apple's App Store. the smartphone- and tablet conversion is in a closed beta for several days by invitation only playable. According to analysts of sensor Tower has the title since late last week estimated there 1,5 earned millions of dollars with in-app purchases.
(Denise Bergert) /

(mho)




This news comes from our partner network : https://www.heise.de/meldung/PUBG-Mobile-ab-sofort-weltweit-fuer-iOS-und-Android-erhaeltlich-3999780.html?wt_mc=rss.mac-and-i.beitrag.atom

original image courtesy of heise.de