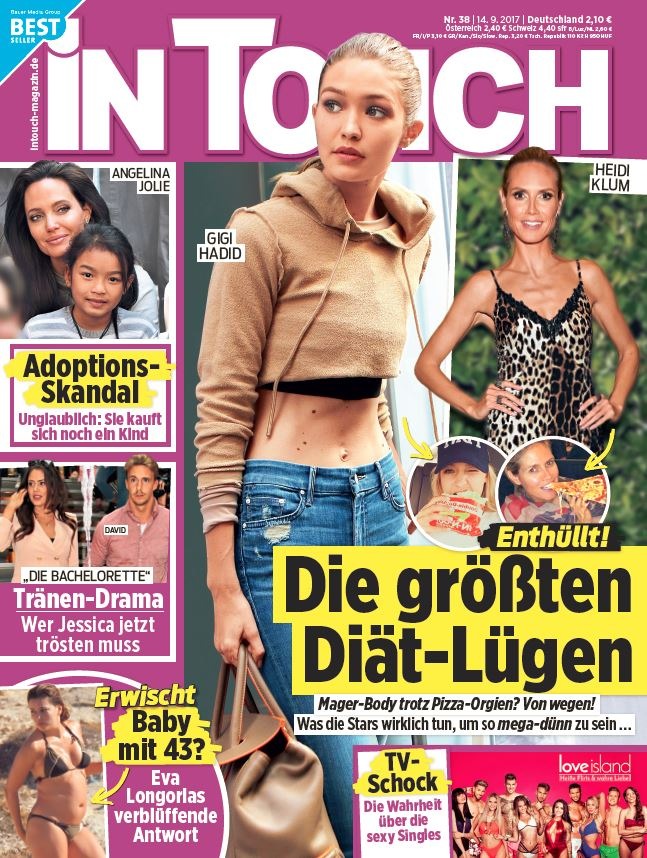 Hamburg (ots) – Sarah Lombardi (24) ist solo! Die Sängerin hat sich von ihrem Freund getrennt: "And, ich bin in keiner Beziehung – und damit geht es mir sehr gut", postete sie auf Facebook.
Entgegen der Gerüchte, Michal T. habe Sarah betrogen, weiß InTouch (EVT 14.09.), dass es einen anderen Grund für die Trennung gab: Der Deutsch-Pole soll hinter Sarahs Rücken mit einer Pressevertreterin über Interviews und Red-Carpet-Auftritte verhandelt haben. Diesen Vertrauensmissbrauch konnte sie ihm nicht verzeihen.
Sarah ist jetzt glückliche Single-Mama.
Note to Editors: The full report is published in the current issue of InTouch (No.. 38/2017, EVT 14.09.). Excerpts are free when naming the source InTouch for publication. For further information, contact the editor InTouch, Alexandra Siemen, Telephone: 040/3019-4107.
The Bauer Media Group is one of the most successful media companies worldwide. about 600 Magazines, more than 400 digital products and 100 Radio- and TV stations reach millions of people around the globe. In addition, include printers, Post-, Vertriebs- and marketing services to the corporate portfolio. With its global positioning, the Bauer Media Group is underlining its passion for people and brands. the claim "We think popular." illustrates the self-image of the Bauer Media Group as a domestic popular media and provides inspiration and motivation for the approximately 11.500 Colleague 20 countries.
Press contact:
Bauer Media Group
Heinrich Bauer Verlag KG
Corporate Communications
Sarah Lüth
T +49 40 30 19 10 34
sarah.lueth@bauermedia.com
www.bauermediagroup.com
https://twitter.com/bauermediagroup
Original content of: Bauer Media Group, InTouch, news transmitted by currently


This news comes from our partner network : http://www.presseportal.de/pm/59675/3733862

Original content transmitted by PR Newswire
original image courtesy of presseportal.de