1 Another media content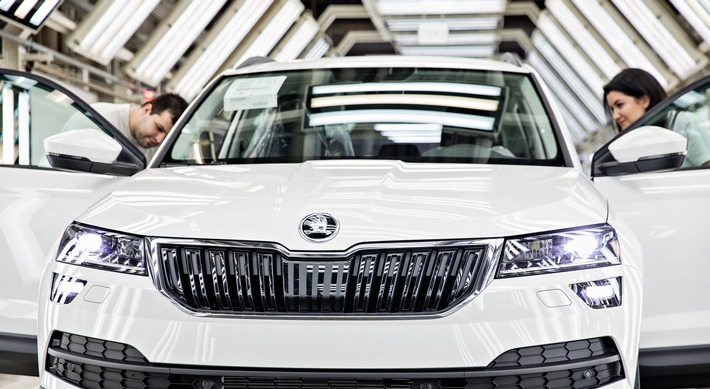 Mlada Boleslav (ots) –
   - SKODA AUTO responding to strong customer demand and manufactures the
     new compact SUV now also in Mladá Boleslav
   - company invests 16,6 Million euros in
     KAROQ production lines at its main plant
   - SKODA KAROQ is since July 2017 in Kvasiny plant
     produced
   - Besides the new KAROQ are currently operating in the Mladá Boleslav
     Model series Fabia, RAPID OCTAVIA from tape
   - SKODA drives SUV offensive with the KAROQ ahead consistently 
SKODA AUTO has the year started series production of the new SKODA KAROQ factory in Mladá Boleslav. After Kvasiny it is the second Czech plant, where the brand produces the new compact SUV. In Mlada Boleslav Skoda now produces four model lines, because FABIA also, RAPID OCTAVIA drive here from tape. can daily to 320 SKODA KAROQ be made.
"The strong demand for our SUV models highlights, that we brought SKODA KAROQ and SKODA KODIAQ the right vehicles at the right time to market", SKODA AUTO says Executive Vice President Production and Logistics, Michael Oeljeklaus. "We are proud, Now to establish with Mladá Boleslav next Kvasiny another production site in the Czech Republic for the KAROQ", so Oeljeklaus further.
The first SKODA KAROQ from Mladá Boleslav went a few days ago from tape. had the plant in Kvasiny production of the new compact SUV end of July 2017 recorded. With the launch of KAROQ in October 2017 drives the traditional Czech brand, which was launched with the KODIAQ SUV offensive continued strong progress. In addition to the KAROQ SKODA manufactures the main plant currently the models Fabia and Fabia Combi, RAPID und RAPID SPACEBACK sowie OCTAVIA und OCTAVIA COMBI. From now on production thus includes in Mladá Boleslav four model lines.
In 2017 left around 547.000 SKODA vehicles the factory in Mladá Boleslav. For the manufacture of KAROQ SKODA AUTO invested around 16,6 Million euros in the production lines at the main plant.
The new compact SUV combines the brand's hallmark emotional, dynamic design with an exceptional space, new driver assistance systems as well as powerful and highly efficient engines. Thanks LTE module and Wi-Fi hotspot, with which each passenger can connect, are the passengers in the SKODA KAROQ 'always online'.
As part of the strategy SKODA 2025 the brand is driving the expansion of the model range in the years ahead consistently. The focus is mainly on the expansion of the SUV offerings. With the start of production of the KAROQ at Mladá Boleslav, the company now reaches the next milestone: As the only model of SKODA KAROQ is manufactured in two Czech locations of the car manufacturer now.
Press contact:
Christoph Völzke
Social Media and Lifestyle
Tel. +49 6150 133 122
E-mail: christoph.voelzke@skoda-auto.de
Original content of: Skoda Auto Germany GmbH, news transmitted by currently


This news comes from our partner network : https://www.presseportal.de/pm/28249/3838124

Original content transmitted by PR Newswire
original image courtesy of presseportal.de